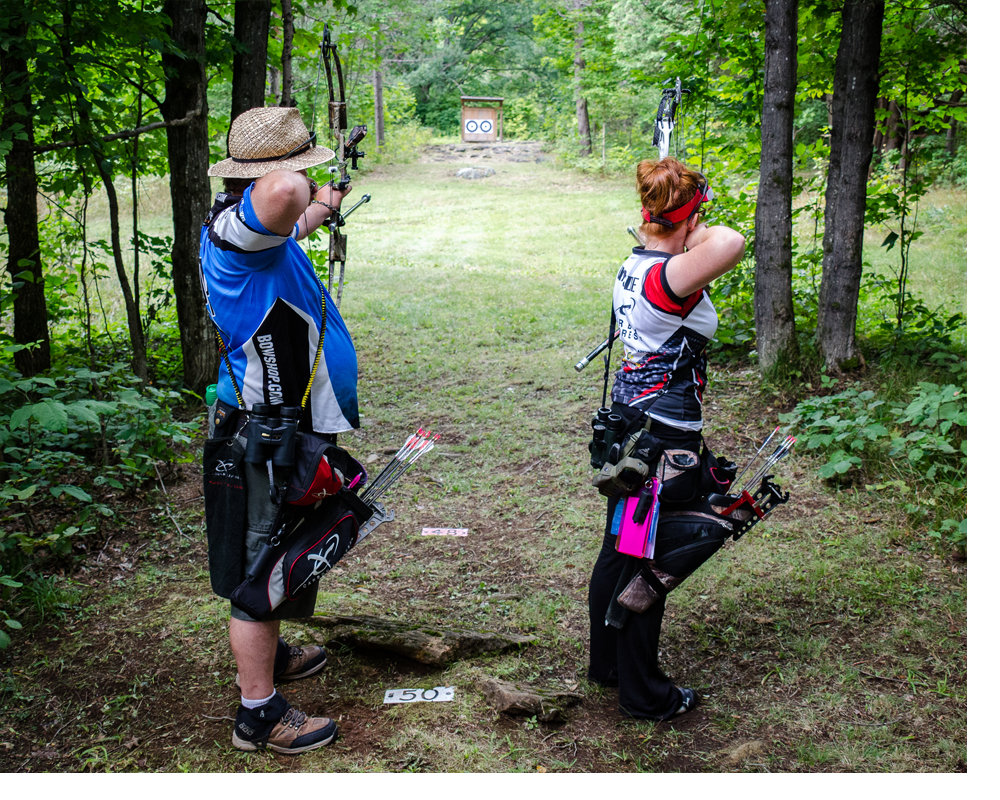 At first glance, target archery and field archery might look the same. Archers in both disciplines draw a bow, take aim, and shoot arrows at a round target marked with circles. What's the difference? Target and field archery have different rules, scoring systems and course settings.
Field archers shoot on a walking course sometimes called a roving course that's usually wooded. Target distances vary from less than 10 yards to 80 yards, and target faces differ based on the round being shot. Archers may shoot field, hunter or animal rounds. In the field round, targets are black and white with a black centre; in the hunter division, targets are all black with thin white rings and a white centre; and in the animal division, paper targets feature colourful images of animals. If the animal division sounds fun, and you want to take it a step further, try 3D archery!
Notables about outdoor field archery
- Targets are placed at varying distances in realistic outdoor settings.
- The sport emulates hunting situations.
- Competition is in World Archery format = Two rounds of 12 targets each 
- Competitions often feature rough terrain.
- Rounds take different forms, such as the hunter, field, or animals (not shot in Ontario) style, each with specific rules.
- Archers tend to shoot in groups as they navigate the course.
---
2023 Field Championships
Location: AIM - Archers In Muskoka
Friday, Aug 18 equipment inspection at 5 pm and practice 
Date: August 19th - 20th, 2023
Start Times: Saturday 10 am | Sunday 9 am
Format: WA Field
For rooms contact - Comfort Inn @ 705-789-1701
Below are the major differences between WA and IFAA field rounds
| | | |
| --- | --- | --- |
|   | WA FIELD | IFAA FIELD |
| Distances | Meters | Yards |
| Arrows per Target | 3 | 4 |
| Targets shot | 24 | 28 |
| Spot colour | Yellow | White or Black |
| Scoring | 6,5,4,3,2,1 | 5,4,3 |
| Round | Field | Field & Hunter |
| Fans and Walk Ups | No | Yes |
| Stake Colours | Red, Blue, Yellow | White, Blue, Black (Field) & Red, Blue, Black (Hunter) |
---
Participant List
Registration
$75 Adult
$55 Youth
$160 Family
Registration will close on August 12th
Prices subject to HST
There will be no accommodation for Walk-ons. Pre-Registration is required.
---
AO membership is required to win championship medals and may be paid at the door.